COVID-19: A unique opportunity to optimize your internal control portfolio
The primary objective of an effective internal control system is to mitigate the risks faced by organizations.
Companies are currently experiencing unprecedented changes in their operations, human resources financials and beyond. In this period of turmoil, we are witnessing the emergence of new risks and the transformation of risks that were always present but are now gaining in prominence. Some of these risks include, but are not limited to:
The impacts of these risks are significant. Organizations may need to make substantial changes to their control portfolios in order to respond appropriately and adequately to these new and evolving issues or areas of increased weakness.
Internal controls are necessary measures which enable organizations to properly manage their risks – which is especially important in times of crisis.
The current situation is an excellent opportunity to review your business' internal control portfolio in order to make it more optimal, efficient and relevant. Whether from a regulatory or financial compliance, operational management or cost saving perspective, optimization is an excellent way to focus on the improvement of what is important to your organization. The table below illustrates the most common optimization paths to explore: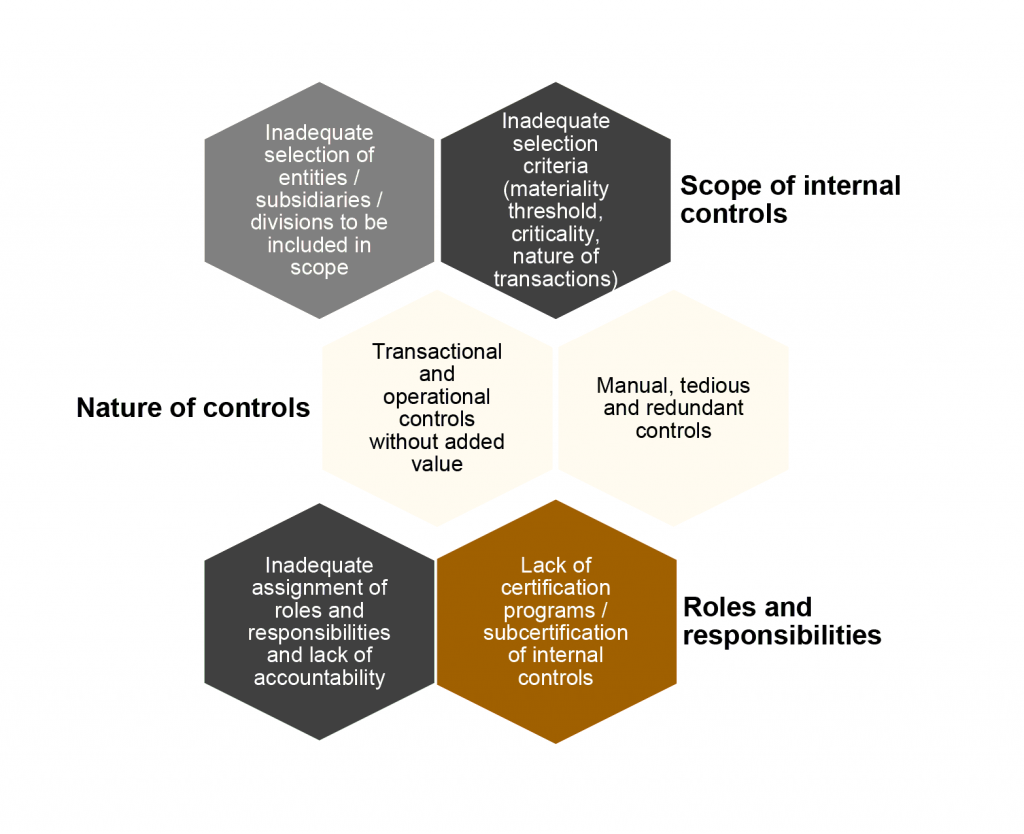 Given the risks mentioned above, we believe that the processes and areas of business most likely to be enhanced are many; to highlight just a few:
Treasury and cash management;
Disbursements (Payments/Electronic Transfers);
IT Security/Cybersecurity;
Access Management;
Human Resources and Payroll;
Credit Management;
Health and Safety Management (Health Measures);
Other compliance processes.
Opportunities for optimization are wide-ranging, and a sound portfolio optimization exercises should consider the following elements:
Examine critical processes that have undergone major transformations;
Analyze the impacts in terms of compliance and operations;
Identify controls that are obsolete, absent or need to be modified;
Carry out an exercise to link the company's risks and internal controls;
Eliminate unnecessary controls covering the same risks;
Focus on high-level supervisory and analytical review controls;
Analyze opportunities to automate controls using existing technology;
Focus on a good ratio of preventive and detective controls.
While the current crisis is leading to significant changes in business processes, it is also an opportunity to do better with less in a more optimal way. This period of global economic uncertainty can be put to good use by optimizing your internal control portfolios which can result in long-term cost reductions, better risk coverage and more relevant control systems.
How can Richter help?
Optimization of internal control portfolios
Optimization of compliance programs (design of controls and testing strategies)
Support in risk assessment
Workshop facilitation and training
Change management