The Montréal Children's Hospital Community Event – JFK Stroll for Kids (raised $500,000+ for the Hospital from 2014-2017) – Co-Founder | Since 2014
1- You're the Co-Founder of the Annual Stroll for Kids event; an initiative which has raised $500,000+ for the Montréal Children's Hospital. How would you describe this cause?
Stroll for Kids is a family event supporting the Just for Kids Foundation ("JFK") and the Montreal Children's Hospital. Funds raised are used for special programming, including the JFK Sibling Park, and to fund high priority medical equipment. In three short years, Stroll for Kids has raised over $500,000 and has grown into a highly-anticipated annual event for JFK. Stroll for Kids has garnered a loyal following of over 150 families, vendors and sponsors, who continue to participate year after year. Outside of fundraising for important programs and equipment, one of the goals of Stroll for Kids is to introduce children to philanthropy at a young age.
2- What pushed you to engage yourself with the Hospital in particular?
I co-founded Stroll for Kids in 2014 following the birth of my premature twins. Avi and Eli weighed less than four pounds at birth and spent six weeks in the Neonatal Intensive Care Unit. When Avi and Eli came home, I wanted to express my gratitude to the Hospital in a unique and significant way – and so Stroll for Kids was born.
I spearheaded the JFK Sibling Park project following the hospitalization of one of my twins in a U.S. hospital that had a similar program. The Park caters to patient families by focusing on the often-overlooked healthy siblings of these patients. This program provides overwhelmed parents with more time to bond with their hospitalized children, alleviating the financial and time-consuming stress of securing additional childcare. Siblings can join their parents at the hospital and be cared for in a warm and welcoming environment, run by a group of childcare professionals.
3- What do you think makes for a strong community?
The strength of our community can be measured by how we take care of those who are dependent – children, elderly and individuals and families who have encountered challenges. This means embracing community members who need help. A strong community is open to learning, sharing and embracing diversity. Members should conduct themselves with authenticity and intention.
4- What advice would you give to people who may be contemplating creating their own fundraisers for a worthy cause?
It takes a village – start by asking friends and family for help. You will meet like-minded individuals along the way who have the expertise you need and enjoy an interest in the cause. Don't be shy to ask for resources – no one will think poorly of you for asking and they can always decline. You may be surprised how many want to help. Stroll for Kids would not be what it is today without the incredible support of the planning committee, JFK, the Hospital, our participant families and the thousands of sponsors and donors.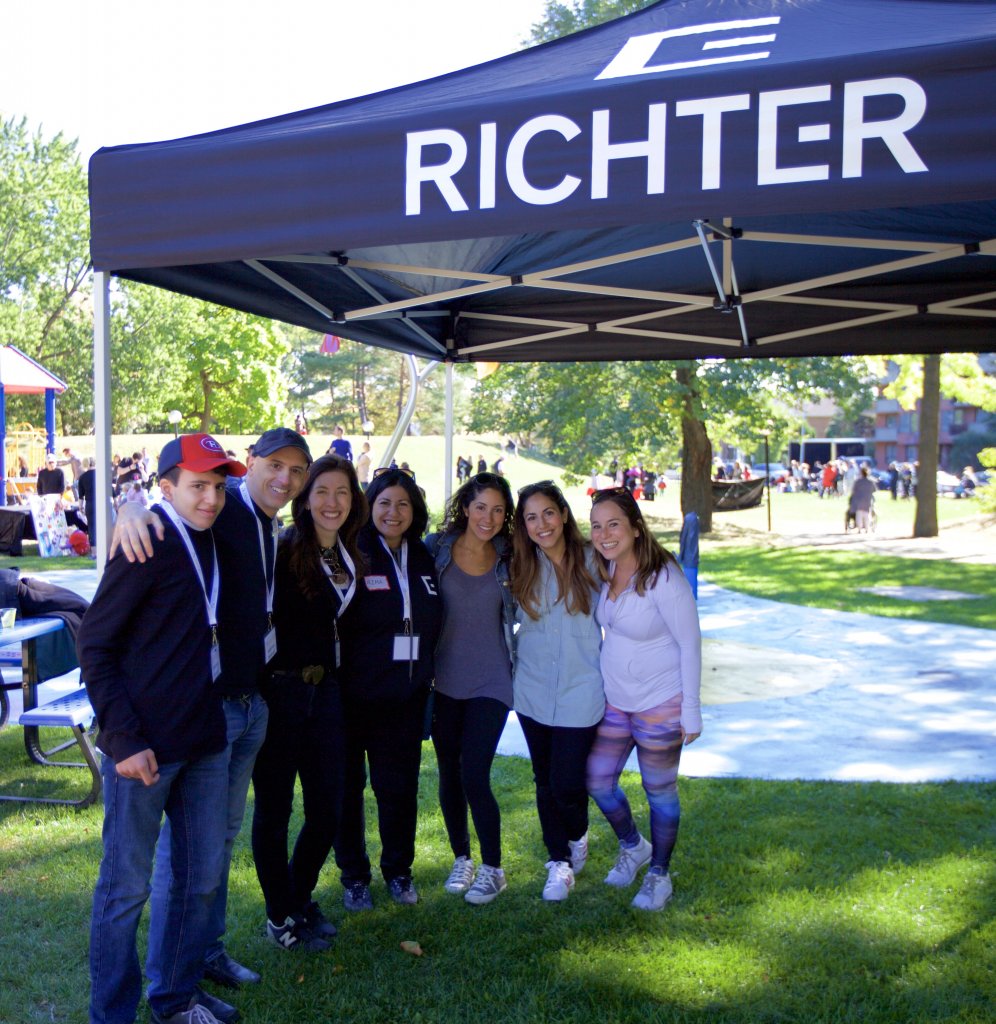 5- You're also involved in the Israel Cancer Research Fund and the Montreal Association for Blind Mackay Foundation. Why community involvement is so important to you?
Giving back is contagious. It makes our community stronger and more cohesive. Through community, I have had the opportunity to learn about and contribute to so many causes and to interact with incredible individuals. My family benefits from many community causes and it is important to us to give back, however we can.
Check out coverage of last year's event! – https://www.btmontreal.ca/videos/just-for-kids-foundation-opens-sibling-park/