Richter is at the intersection of business and family, where identifying and resolving complexity builds lasting legacies.
Richter is an integrator that bridges the gap between business and family.
Our experience has shown us that successful companies break down silos and encourage the efficient flow of information. The best strategies are always integrated and success is based on taking in the big picture. We apply this vision to everything we do. We offer an integrated service that ensures that all energy invested in creating lasting value benefits both business and family.
Want to learn more as to what your roadmap would be with Richter?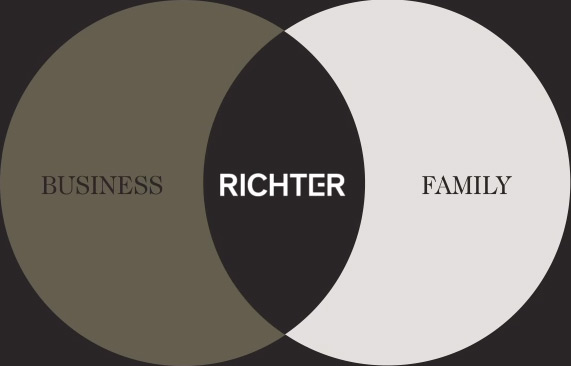 RICHTER'S BUSINESS | FAMILY OFFICE
For almost 100 years, we at Richter have worked with business owners, entrepreneurs, and some of Canada's most successful families to build relationships that transcend generations. The key to our success? Innovation.
As business owners and entrepreneurs will tell you, to remain relevant you must adapt. They know that to thrive and ensure the sustainability of both business and family, you need to take risks and reinvent yourself.
This agile, fearless approach is an inspiration for Richter, and we continuously learn from these clients.
Combining our expertise in business advisory and family office services, Richter works as an integrator to bridge the gap between business and family. We begin with the premise that no corporate objectives should be established without understanding the goals of the owners and their families, and then work with owners to ensure that business and family interests are aligned so that long-term goals can be achieved.
Richter

consulting

Our value proposition is to ensure that everything we do for a client's business is linked to a successful long-term strategy. We support leaders and address all of their business needs, from foundational services like financial reporting and tax planning, to objective-focused key strategic advice. Our advisory experts rely on their diverse skills and backgrounds to assess complex situations and design tailored solutions that perfectly suit a company's specific needs.
Richter

family office

We understand that each family is unique, as are its challenges. Through our design process, we establish a financial roadmap for business owners and their families starting with an understanding of where the family is currently and where it wants to be. We support our clients in all their personal affairs and as an integrated in-house platform, we help them manage their wealth while delivering independent strategic advice on financial and personal objectives across generations.
Helping business owners and their families build success stories

Bridging the Gap Between Business and Family
From a long line of family entrepreneurs, this third-generation business owner worked with Richter for all his company's needs: financial reporting, tax planning, managing stakeholder relations, and more. The company grew considerably over the years, which led the owner to sell part of it. Richter assisted with the business valuation and the transaction. The sale of our client's business led to a liquidity event of over $300M. The liquidity event made him realize that he would now face a variety of challenges on the personal front, including making sure this liquidity was converted into generational wealth, and managing all the details and advisors involved in the process.
That's where Richter helped him to bridge the gap between business and family and onboarded him to our Richter Family Office platform. We created a bespoke infrastructure for his family office. Working closely with him to build and actively manage his portfolio, financial affairs, philanthropic projects, real estate assets, family governance, and educate the next generation in order to ensure intergenerational success.
A True Entrepreneur at Heart
This serial entrepreneur came to us after the sale of her latest company. She was referred to us by another one of our clients for our family office services but didn't know exactly what that entailed in her case. After meeting with her to understand her situation, her story and her goals, we determined that her broad range of assets required the same level of oversight and diligence as a well-run operating business and introduced her to our Richter Family Office platform. We helped her set up and manage her family office: from wealth management, finances and operations, to helping with lifestyle management.
A true entrepreneur at heart, our new client was already looking for her next business venture. We introduced her to our Transaction team on the Richter Consulting platform, to help guide her through her subsequent acquisitions and successful business deals.
What is Richter's roadmap?
We have no predefined roadmap. Every business owner, entrepreneur and family is unique, and the path ahead is uncharted and ready to be built to align with your values and needs.
Learn more about how you can build your unique roadmap with Richter