Our beginnings were humble
Our vision was not.
In 1926, Cecil Usher and William Richter teamed up to form Richter, Usher & Co., an accounting firm in downtown Montréal. Today, just a few years shy of a century later, Richter is one of the largest independent accounting and consulting firms in Canada.
Our growth and our success are rooted in the same standards of excellence that were established by our founding partners over 90 years ago.
Here's how we got to be the Richter we are today:
Today at Richter
Today, Richter's 500 valued team members are all driven by the same passion: to help the companies we serve grow and succeed in their pursuit of excellence. As we approach our centennial, we value our rich history and experience; not to anchor us in the past, but to serve as the solid, dependable foundation from which we launch our path forward. A foundation that fuels us to continue adapting, improving and moving towards the future with you.
2016
Richter's Toronto team moves into one unified space on Bay Street, in the heart of Canada's busiest financial district.
2013
Richter expands to Toronto, merging with a local accounting firm and opening a Consulting division.
2012
Richter adopts a fresh image with renewed branding, a reaffirmed personality and a simplified corporate name: Richter.
2009
The firm Chamberland Hodge joins Richter.
2008
Richter receives a "Top Employer" award – the first of many to come. The first official Richter Community Day is also held.
2007
Richter's "Go Green" program is launched to support firm-wide environmental initiatives.
2001
Richter Wealth Management is founded, known today as Richter Family Office.
1998
Richter Consulting Inc., the financial restructuring division for U.S. companies, launches in the U.S., with an office in Chicago, IL.
1990
Richter Charitable Foundation is created. To date, RCF gives over half a million dollars per year to worthy causes and organizations.
1971
Richter opens Richter & Partners, the firm's insolvency and corporate restructuring division.
1962
Richter becomes the first independent accounting firm in Canada to sign a prospectus for a public offering.
1926
Richter, Usher & Co. is founded.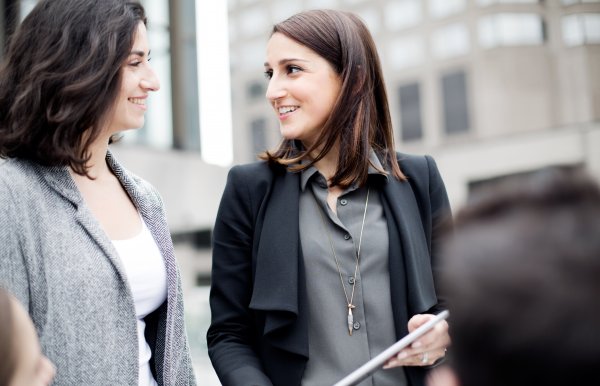 Life
at Richter
The first word that comes to mind when working at Richter is "family". It is a unique place that has brought together talented and dedicated people for over 90 years. Discover the values that guide our day-to-day activities.