Family Account Management
Your personal CFO – an integrated approach designed for you and your family.
Family Account Management and Cash Management 
Cash management is an important component of a family's overall financial framework. Having an effective advisor who can help manage your liquidity needs can save you time and money.  Richter's Family Account Management (FAM) team takes care of the operational responsibilities by acting in the capacity of your personal Chief Financial Officer. Our professionals oversee and provide strategic guidance on lifestyle management, personal planning opportunities, your day-to-day accounting and bookkeeping needs, and bill payments.
By integrating both your family's financial and investment reports, we can provide you with clear insight into how your assets are performing as well as how the money is being spent. We help identify cash flow needs and the most tax-efficient means of funding day-to-day living expenses. This also means providing families with access to efficient investment solutions that can be quick sources of liquidity. We ensure that the cash you require is available; thereby eliminating the administrative tasks you would normally have to oversee. This can make the oversight of all aspects of your family's wealth simple, as well as provide you continuity through one primary point of contact for all of your family's financial affairs.
High net worth families face specific complexities: multiple types of investments, sophisticated legal structures, complicated compliance requirements, as well as unique challenges relating to cash management. Richter's Family Account Management (FAM) handles the intricacies of your financial life, offering personalized solutions based on your needs, objectives and goals.
Our seamless approach eliminates the administrative tasks you would normally have to oversee. We provide comprehensive services for all your financial needs, and integrate with the services other advisors might already be providing to you.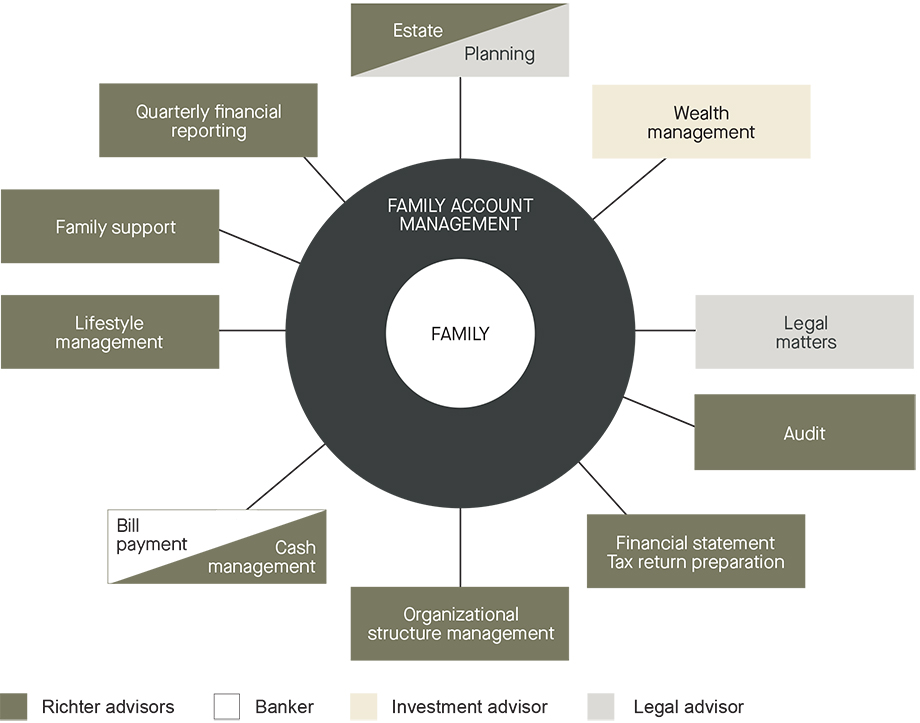 With a broader perspective on all areas, FAM can help fine-tune your financial journey, while taking care of the details along the way. With FAM as your personal CFO, we take care of the details, so you can take back the luxury of time and peace of mind.
Richter Family Office
We understand that the transfer of your wealth to future generations is about far more than just the dollars and cents. It's about the transition of your legacy.